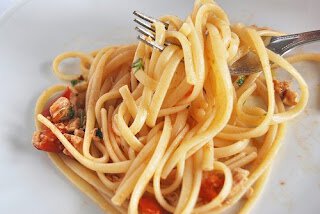 Fall is here, and sometimes we here at Vickie Greenberg Orthodontics just feel like a hot delicious meal is in order. Our friends at the American Association of Orthodontists (AAO) made an appetizing (and braces-friendly!) fall dish that is sure to delight. Remember, a healthy diet provides essential nutrients and helps you achieve the best possible result from your orthodontic treatment.
Pasta Pomodorini
Ingredients:
•¾ pound spaghetti or spaghetti
•¼ cup extra-virgin olive oil, plus more for drizzling
•¼ cup sliced garlic
•½ teaspoon finely minced Calabrian chilies, or 1/4 teaspoon red pepper flakes
•1 pint small cherry tomatoes, stems removed, crushed between your thumb and forefinger
•Sea salt, preferably gray salt
•½ cup fresh basil leaves, each torn into 2 or 3 pieces
•Wedge of Parmesan cheese
Directions
Bring a large pot of salted water to a boil over high heat. Add the pasta. While the pasta cooks, heat the 1/4 cup olive oil in a large skillet over moderate heat. Add the garlic and cook until the slivers are golden brown and crisp, then add the chilies and cook for about 30 seconds. Raise the heat to high and add the tomatoes. Simmer briskly to soften the tomatoes and thicken the juices, about 3 minutes. Season with salt. When the pasta is al dente, scoop out about 1/2 cup of the pasta cooking water, then drain the pasta. Return the pasta to the warm pot off the heat. Add the sauce and the basil and mix well. Add some of the reserved cooking water if the pasta seems dry. Transfer to a warmed serving bowl and grate Parmesan over the top to taste. Drizzle with a little more olive oil. Serve immediately. Makes 4 servings.
Enjoy this great fall dish and have a great week!
–From Dr. Greenberg and team