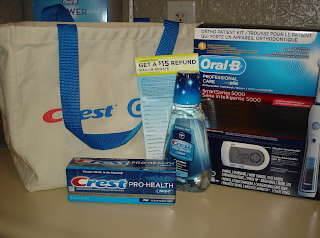 Did you know Vickie Greenberg Orthodontics is currently offering specials on Crest/Oral B products? With a $100 purchase (and a $15 rebate), you get an Ortho Kit Box that includes the following items:
1 Handle
1 Smart Guide
1 Smart Charger
1 Base Station
*2 Ortho Brush heads, ideal for the cleaning and care of orthodontic work such as braces
*2 Power Tip heads, specially designed to clean around bridges, crowns and other dental work.
*Travel Case (blue)
You also get a…
*Crest/Oral B canvas bag
*4.2 OZ Crest Pro-health toothpaste (Clean night mint flavor)
* 8.4 Crest Pro-health rinse (Clean night mint flavor)
* Form for a $15 rebate that you send in to Crest
If you would like to purchase an Ortho Kit Box, or have any questions, please give us a call at (626) 798-7645!