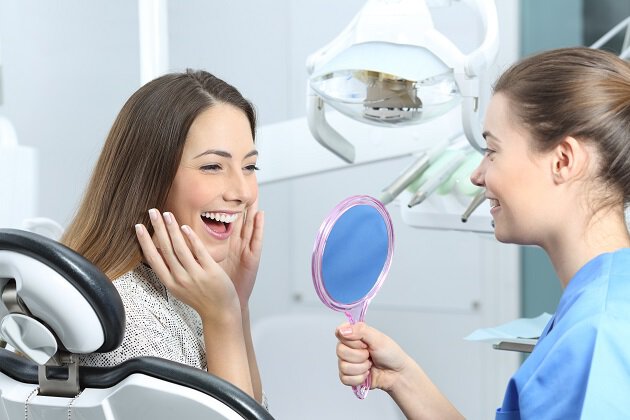 Let's face it-trips to the orthodontist can be a pain. They take up time and energy. You have to wait around for technicians and an available room. You have to wait for your orthodontist to come in. And more often than not, that first exam doesn't generate any answers or a treatment plan.
All that is changing! Dr. Vickie Greenberg is thrilled to offer Dental Monitoring Smile Box to her patients. It's a revolutionary new way to gather images of your teeth without pesky trips to the orthodontics office!
How Smile Box Works
Smile Box allows you to take images of your own teeth from the safety and security of your own home. You simply attach the apparatus to your phone, insert the mouth pieces into your mouth, and take the images yourself! It's really easy, and you can do it in the comfort of your home!
The A.I. engine will immediately analyze a wide range of oral conditions and you can instantly send the data to your orthodontist. No trips to the office, no annoying waiting times, and no more invasive, annoying and time consuming pictures and X-rays!
Benefits of the Smile Box
Your time is valuable. Your health is important. Smile Box allows you to save time while prioritizing your oral health.
The sooner you have a diagnosis, the sooner you'll have a treatment plan. And the sooner you have a treatment plan, the sooner you'll be on the road to a bright, happy, healthy smile.
Dr. Vickie Greenberg-A Superior Orthodontics Provider
Dr. Vickie Greenberg has been an orthodontist for over 25 years. She uses a holistic approach to her practice, with the understanding that each of her patients presents with a unique situation and set of circumstances.
She uses compassion and approachability to get to the heart of why her patients are seeking treatment. She specializes in TMJ and Jaw Pain, Snoring and Sleep Apnea cases, and she works with patients of all ages. She is a Diamond Status Invisalign provider, the best in Altadena and Pasadena.
Schedule with Dr. Vickie Greenberg Today!
If you are new to orthodontics and desire a care provider who truly does care, don't wait another day to make an appointment with Dr. Greenberg.
If you've gone through orthodontic treatment before, and aren't happy with the results, call Dr. Greenberg sooner rather than later. It's never too late (or too soon) to get the results you deserve with superior orthodontic care.
If you've been told you need surgery or extractions to complete your orthodontics treatment, schedule with Dr. Greenberg for a 2nd opinion. She works tirelessly to avoid surgery and extractions, and has completed many difficult cases using non-surgical and non-invasive techniques.
Located in Altadena, Dr. Greenberg treats patients from Pasadena and all over the San Gabriel Valley. Call (626) 798-7645 today and schedule your consultation. You'll be so glad you did!