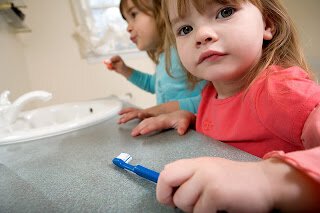 Whether you're 5 or 50, your health depends on your awareness of what's good for you. But in a world filled with fad diets, blaring advertisements, and unintelligible ingredient lists, we at Vickie Greenberg Orthodontics know it can be difficult to determine exactly what is good for you – and what's not.
For straightforward guidance on how to live a long, healthy life, we recommend Brush Your Teeth! And Other Simple Ways to Stay Young and Healthy by Dr. David Ostreicher. The book sums up good health in six fundamental principles: hygiene, diet, attitude, exercise, sleep and personal safety.
Drawing on nearly three decades of experience as an orthodontist and professor of health and nutrition, Dr. Ostreicher definitively answers age-old debates, like the best way to prevent colds and flu (your mom was right: wash your hands). He provides straight talk on a variety of diet choices including salt, fats, carbs and organic food, and he documents the importance of regular sleep, stress reduction and positive thinking to your overall health. His suggestions throughout are simple, clear, and inexpensive.
Dr. Ostreicher advocates a back-to-basics, common-sense approach to staying young and healthy. We at Vickie Greenberg Orthodontics couldn't agree more, and we'd like to repeat the title of his book as our favorite piece of advice: don't forget to Brush Your Teeth!