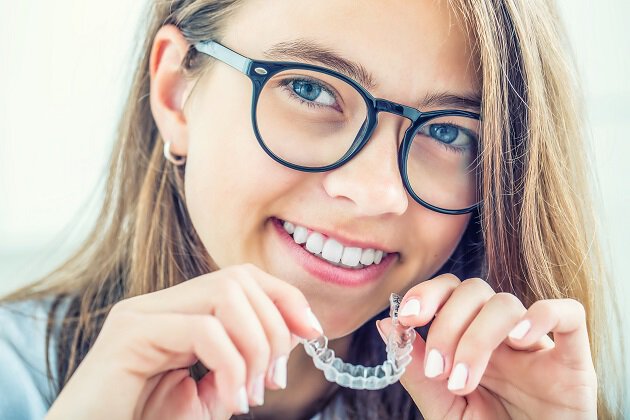 Have you always been curious about Invisalign®, but just never really got around to looking into it? Do you have a mild to moderate case of malocclusion and think Invisalign may be right for you? Are you a student with a valid ID?
This is your chance to score HUGE Savings on Invisalign treatment! From now through the end of November, Dr. Vickie Greenberg is offering a 500$ discount on Invisalign treatment for students with a valid ID.
Read on to learn more!
What is Invisalign?
Invisalign Clear Aligners consist of clear aligners that are tailored to fit perfectly over your teeth. In this way they slowly shift your teeth into the desired position.
The aligners are almost invisible, so no one even has to know that you're going through treatment. They are a great option for working professionals, or students wishing to enhance their smiles discreetly.
Dr. Greenberg favors a holistic approach in her orthodontics practice-she focuses on a whole person approach, instead of just looking at each set of teeth. She wants to ensure you're getting the right treatment, not just for your smile, but for your lifestyle and your long term health goals.
Is Invisalign Right for Me?
If your malocclusion case is mild to moderate you may be a candidate for Invisalign treatment. If you are a busy student, or working professional wishing to enhance your smile discreetly, Invisalign could be a perfect treatment option.
It is important to be aware that compliance is really important in Invisalign treatment. The aligners must be worn in order to work, and it is recommended that you wear them up to 23 hours a day.
You can take the aligners out in order to eat and clean your teeth, which is not the case with braces. This means you won't be restricted from certain foods, such as caramel or popcorn. Again, the important thing is to consistently replace the aligners when you're finished!
Schedule with Dr. Vickie Greenberg today!
Dr. Vickie Greenberg is a Diamond Status Invisalign provider. She has successfully completed hundreds of Invisalign cases, not just for adults, but for teens and kids as well.
Dr. Greenberg has been an orthodontist for over 25 years. She has a compassionate and approachable manner that makes her patients feel instantly at ease. She understands that she isn't just fixing teeth-she's helping people improve the quality of their lives.
She has dedicated much of her career helping patients deal with sleep issues, as well as TMJ and Jaw Pain. A good night's sleep and a life without pain are crucial to an overall healthy and active lifestyle.
If you are a student, or you know a student who may benefit from Invisalign treatment, give Dr. Greenbergs office a call today! She see's patients of all ages in Altadena, as well as Pasadena and the surrounding areas of the San Gabriel Valley.
And remember, with a valid student ID you'll receive a 500$ discount on your treatment if you start before December 1st!