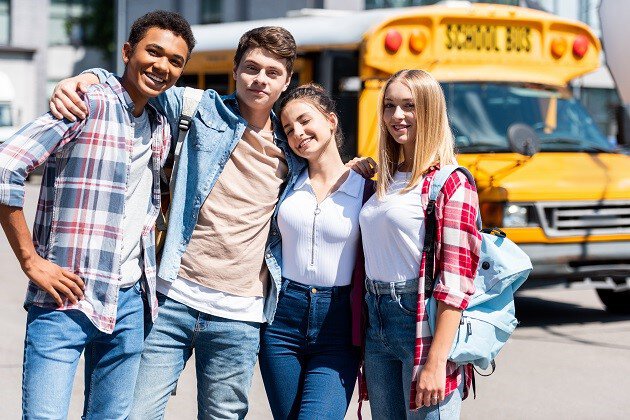 If you have kids, you know that life is about to get hectic. The school year tends to get busier and busier as time rolls on, so get your appointments set up for orthodontic treatment soon so that you don't have to worry about it later!
Orthodontics for Kids
It is recommended that kids see an orthodontist by the time they are 7. That may seem young, but an orthodontist may be able to spot potential problems before they become more serious. Even if your child's teeth look straight and even, there could be unseen issues that can be addressed sooner rather than later.
The best thing about preventative care is that it tends to be easier and therefore less expensive! So don't wait…get your kids in to see an orthodontist as soon as possible. Technology has come so far in such a short period of time that all aspects of orthodontia are easier than ever before-especially if you catch the problem early!
Orthodontics for Teens
When you think of teenagers and orthodontics you may be picturing metal braces. Nowadays Invisalign® aligners are accessible to patients of all ages, and that includes your selfie-happy teenagers!
Teenagers tend to perform very well with Invisalign, better than their parents expect much of the time. They are virtually invisible, so that goes over well for self-conscious teenagers, but there are other benefits as well.
Invisalign aligners can be removed for the sake of eating and cleaning your teeth. They also consist of less hardware than metal braces, so there is less potential for damage or breakage, meaning fewer appointments with the orthodontist!
If your teenager needs orthodontic care, and you wonder if Invisalign might be an option, schedule with Dr. Vickie Greenberg today! She is a Diamond Status Invisalign Provider, and the best in the business!
Orthodontics for Adults
And last but not least, orthodontic treatment for you! More adults are seeking out orthodontic care every year, and it's not just for the sake of vanity. A healthy, straight, even smile goes a long way towards preserving the longevity of your overall health.
Straight and even teeth affect more than your mouth and oral health. Dr. Greenberg specializes in Sleep Therapy as well as TMJ and Jaw pain.
If you're suffering from snoring or troubled sleeping, or TMJ Jaw Discomfort or T.M.J. Disorders, you may be able to find relief with orthodontic care. Dr. Greenberg is passionate about using non-surgical approaches for the treatment of these 2 issues, and she understands how poor sleep and chronic pain can be detrimental to your lifestyle. Don't suffer any longer, schedule with Dr. Greenberg today!
Schedule with Dr. Vickie Greenberg Today!
Located in Altadena, Dr. Greenberg serves patients from all over the San Gabriel Valley including Pasadena. She favors a holistic approach in her practice-she treats the whole person, not just their teeth! With over 25 years of experience, Dr. Greenberg has a compassionate and approachable demeanor, and makes all of her patients feel welcome and comfortable, from toddlers to retiree's!
So make your appointment today at (626) 798-7645 and get your whole family the happy healthy smile you all deserve!